Bernds Dive Safaris
LIVEABOARD mit der BB-BRYAN
Diving and Snorkeling with Whale Shark Philippines
Leyte is one of the larger islands of the Philippines and lies in the geographical east of the Visayas. But among diving enthusiasts the island is still a rather undeveloped territory, although there is an area in the south where there is a very good chance to see some whale sharks. From December to April these gentle giants "take a break" here, whereby ten animals can easily cavort in one place. The reefs in the region are mostly in excellent condition and the diversity of species is enormous. Another special attraction is the underwater world of Napantao, which invites you to snorkel as well as dive. One of the best cliffs in the world.

No other country is better suited for island shopping than the Philippines, which consists of over 7000 islands. Also the underwater world leaves almost no wishes unfulfilled. The Sogod Bay in South Leyte is a veritable reservoir for a whole range of big fish like whale sharks, manta rays and sharks.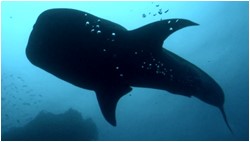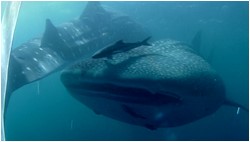 There is a big difference between diving with whale sharks and snorkeling. Do I want to experience whale sharks in the wild, without feeding and without mass tourism, or support an animal cruelty like in Oslob?



This is how our guests experience the whale sharks
Whale Sharks Philippines - Diving
With a length of up to 13 metres, it is currently the largest known fish on earth. For comparison: To reach this size, a person with a body height of 1.70 metres would have to be strung together almost eight times. The adrenaline kick is therefore automatically pre-programmed when you encounter this colossus and it literally takes your breath away. Even if the sight may be intimidating at first: at the latest, those who look into the eyes of these gentle creatures will shed all shyness and be completely one with the underwater world for a short moment. Since whale sharks feed mainly on phytoplankton, a mixture of algae, crabs and small fish, they often romp around in shallow waters, so that even snorkelers can observe the striking white dotted markings on their backs from the water surface.


Diving Philippines - Leyte
Limasawa Island is located directly at the southern point of Leyte. This area is perfect for all diving levels. The environment includes deep canyons, steep walls and healthy reefs. The current can be strong, but the variety of fish and huge black corals is worth every effort. Panaon Island and Sogod Bay are the main map for the area. Whale sharks are sighted here every November to May. When the whale sharks are not present, whales, dolphins and manta rays are used for entertainment.

Napantao Fish Sanctuary also has barracudas, turtles, sweetlips and giant gorgonian corals. In the area around the southern Leyte Peninsula there are numerous dive sites. Most of these sites around Tangkaan and Padre Burgas are home to schools of barracudas, sweetlips, fusiliers, tuna and jacks, as well as beautiful gorgonians, hard and soft corals. Due to the variety of dives offered by Leyte it is recommended to plan a few days for diving in the area. So it is just the right thing for a 6 day dive safari. x